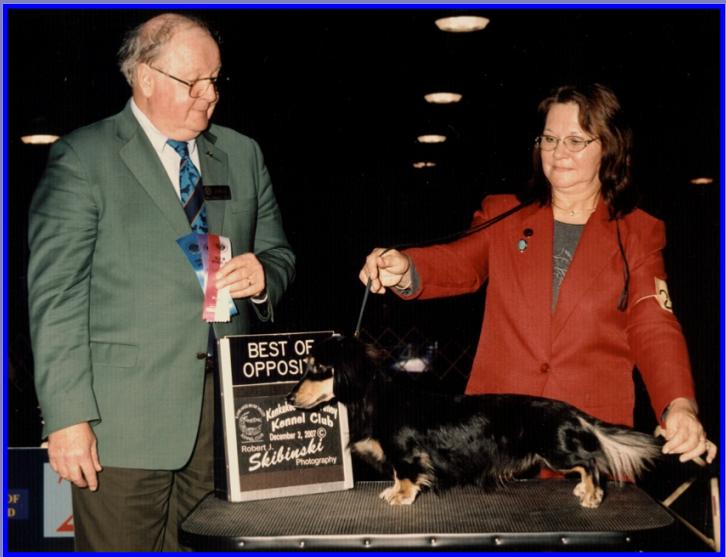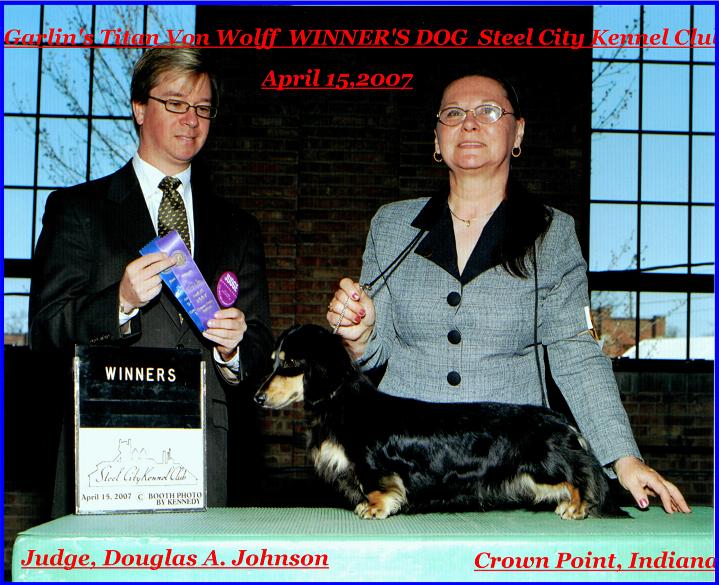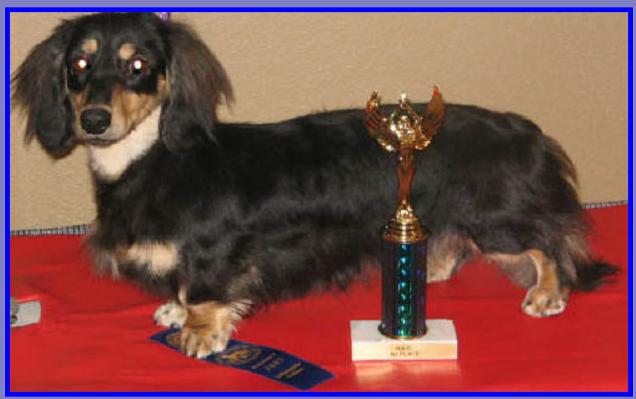 Titan wins 6-9 month Puppy Class and Best Puppy Dog Award at
Indianapolis, Indiana Feb. 9, 2007

What a wonderful win! Thanks Judge Johnson! Titan takes WINNER's Dog over 6 other entries at the Steel City Dog Show, April 15, 2007! This is Ti's first win, and gives him 2 points towards his AKC Championship !!

Titan competed in the Popcorn Cluster AKC Conformation dogshow
June 21-24, 2007. He won his class each day, coming VERY
close to winning his first major on Friday when he was awarded
Reserve Winner by judge Monica Canestrini.
Thanks, Judge Canestrini for recognizing our Titan's quality!

At the September 16, 2007 dogshow in Lebanon,Indiana hosted
by the Greater Lafayette Kennel Club....Titan was awarded a point
for Winner's Dog and Best of Opposite Sex! Way to Go, Ti!

Judge Professor Douglas Taylor awards our Titan
1st in Open Dog Class, Winners Dog and Best of Opposite Sex for a great 2 point win at Kankakee River Valley Kennel Club Dogshow on December 2, 2007. Our Thanks to Prof. Taylor!


Judge Beverly Capstick awards Titan Winner's Dog
at the Steel City DogClub Show
Sunday,April 13, 2008.
Thank You Judge Capstick!

June 21, 2008 was hot and scattered thunderstorms rolled over the showring. For Titan, a Black dog in a fur coat...hot weather is no fun!
As a light shower swept over us, we entered the ring....Titan got a sniff of cool air on the misty breeze, picked up his head and MOVED OUT!
This is when his fluid gait and smooth motion can really be seen. Not when he's walking, but at a crisp cantor.

Judge Edna (Katie) Gammill, a dachshund breeder herself for many years...saw Titan's terrific movement and called him out for Winner's Dog! Then in the Breed Competition she awarded him Best of Winners!! Titan had his first Major win and a very kind comment from the judge...
"This is everything I look for in a dachshund. Especially that reach and drive that is missing in so many of the exhibits these days".
Needless to say, Titan and I were thrilled and happy. He had defeated 8 good competitors for this win...and done it on one of the hottest days of the summer!
Congratulations, Titan!