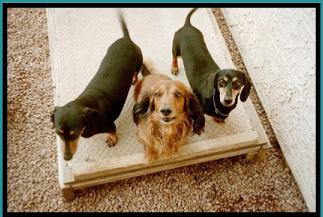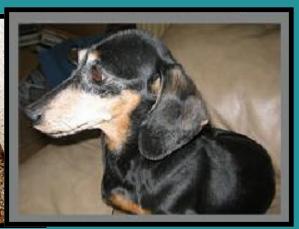 On March 6, 2011, we suffered a terrible loss when our wonderful Gabby left for Rainbow Bridge. She was a dear, sweet girl that will always remain in my heart. Her daughters GiGi and Holly carry her beautiful dachshund soul into the future.
Bye for now Gabby...see you at the Bridge

Gabby was a sweet, petite little Shaded Red Girl that made a special trip to VWK in July, 2007. She left with Titan puppies in utero...and returned to her home at Allentown Dachshunds where she lived with Dee and Josh Allen in Centerville, Indiana. That September, 3 beautiful puppies were born !

When Dee Allen offered Gabby to me, I couldn't refuse! She felt like one of our girls already! She had a permanent home here at VWK, and a place of honor as one of our special Foundation Dams.

Gabby took a break from the showring during late 2009/early 2010 to whelp a litter of puppies sired by our Titan. She was ready to return to the showring to compete for her final major win to finish her AKC Championship Conformation title when she passed away!

Her daughter by Titan, Glamorous GiGi Von Wolff,ML has entered the Conformation show ring and will be competing for a Conformation title during 2011.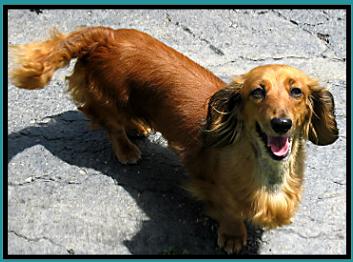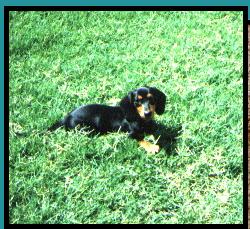 Little Aby was the daughter of our Red Longhair dog,
Valentino Von Wolff and Cindette Frederick. Aby was so like her wonderful dam! She was sweet and trusting...but also quite the
dachshund athlete. She is the only doxie I ever had that could catch birds out of the air!

Aby made the long journey from Arizona, where she was born in 1995,to Valparaiso Indiana in 2006. She enjoyed the Midwest summer weather and one hard winter here...then left us in the Spring of 2007.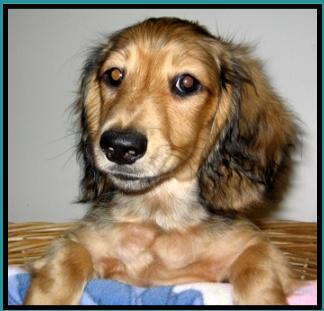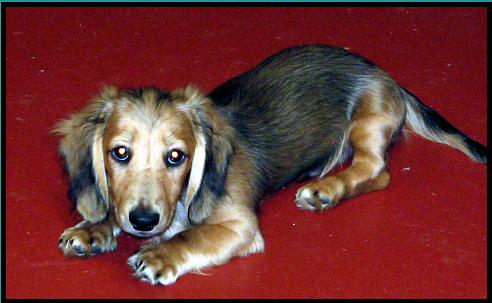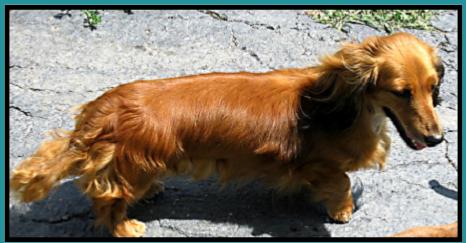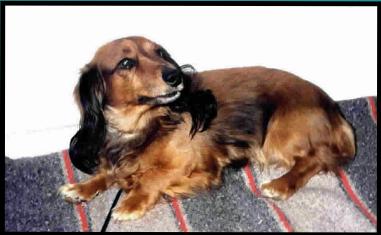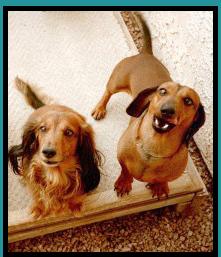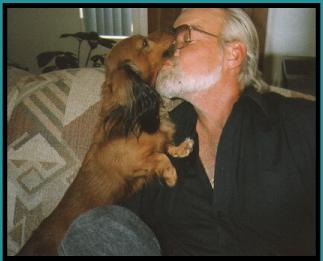 Tino was a wonderful boy! He was my Valentine's Day
present from my husband Don in 1994. Tino sired many
beautiful puppies with Cindette and Nutmeg during the
1990's. His son Redi is still with us at VWK today.
Tino was stolen from our home while we were in the process of moving from Arizona to Indiana in 2006.
I hope the person that took him gave him a good life as an elderly dachshund. We loved him dearly and hope to be re-united at the Rainbow Bridge someday.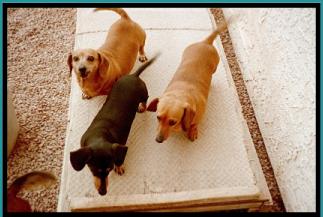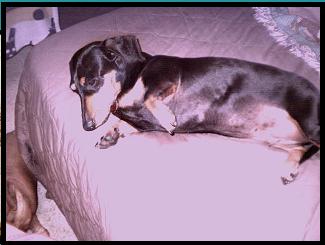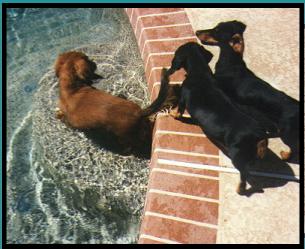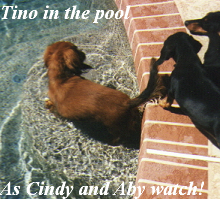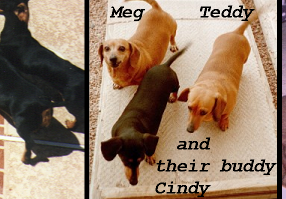 One day I went to see dachshund puppies advertised in the newspaper. There were 6 beautiful little Black and Tan 6 week old babies...and a very tired and worn out Momma. My heart went out to her with her huge responsibility....so I asked if I could buy the mother dog instead of a pup. "YES! she is yours if you prefer!"
And so Cindette came home with me.
When I laid her in Don's arms, she gazed into his eyes and was his girl from that moment on! For many years she gave us happy moments, beautiful puppies with Tino, and years of her sweet devotion.
Her last breath was in her Daddy's arms...where she wanted to be.
RIP, sweet darling.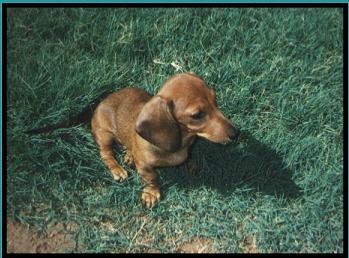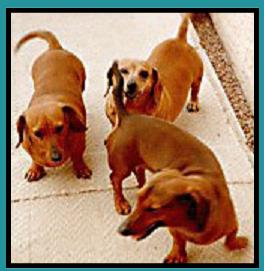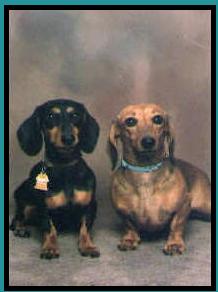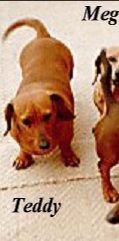 I always said she was the most beautiful puppy I had ever seen.
She still ranks up there as one of the BEST ever born in our home.
She arrived as a roly-poly Teddybear ...one of only 2 puppies born in Nutmeg's last litter. Special from birth.
Teddy would be the first doxie I thought about showing...and although she could have easily won...she got so horribly carsick riding to and from the matches...that we gave it up. I couldn't get her over it and couldn't continue to put her through it.
Teddy was a wonderful dam to several litters of pups...and died much too early of heart failure. When smooth puppies are born at VWK...I still compare them in my mind to Teddy and her exceptional dachshund beauty.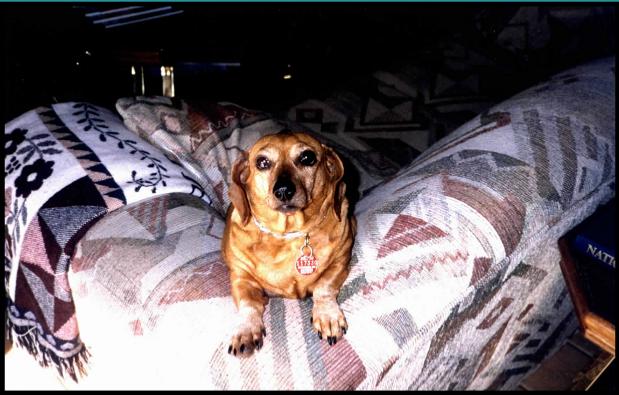 Unless you've had a "heart dog"...you may not know what I mean when I say that Meg
was my heart dog.
When I breathed, she breathed. My thoughts were her thoughts. She lived to make me happy. She was a joyous,funny dog with a quick mind and a sense of humor. She was
everything that is meant when someone says "companion dog". She was my best friend.
Once or twice in your life you may have a deep connection with an animal like this, if you are lucky. I was very lucky to have Meg.
She lived a good life, a long life for a doxie...and died with dignity and in her own way.
I will always miss her...and always love her until I draw my last breathe too.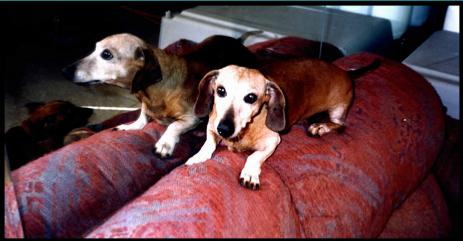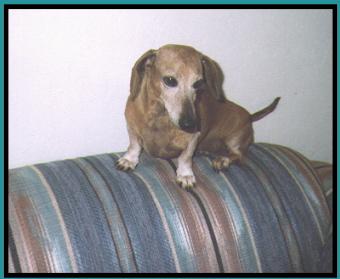 Rudy was our first Dachshund. He started it all!
Rudy didn't really like anyone but Don and I..in fact,
there were a few friends that he nipped repeatedly!
This earned him a place in the spare bedroom when guests came, and a neutering surgery.
Since he wasn't related to any of the other doxies to come...his nickname became Uncle Rudy.
Rudy lived a long life and a was a participant in all the doxie fun until he became a very elderly guy...then he would perch on the back of the sofa and supervise everything that went on!
Rudy began my love affair with dachshunds...and so,
he leaves a wonderful legacy even though he never
sired a single puppy:) Sleep sweetly,dear boy.