Melissa finished off our 2007 in grand style!
She was awarded Winner's Bitch by judge Joan Goldstein at
Rosemont, Illinois December 15, 2007!
Thank you judge Goldstein for helping make
VWK's Christmas a memorable one!
Melissa won her class both days,going Reserve and
Best Puppy in Variety at Starved Rock KC dogshow
in Wheaton, Illinois
December 13 and 14, 2007! What a girl!

At the prestigious International Kennel Club Dogshow in
Chicago, Illinois on Feb 24, 2008.....
Our beautiful Melissa was awarded Reserve Winner's Bitch
to a 4 point major by Judge Michele L. Billings.
Thank You Judge Billings!
This was an exceptionally memorable event as Melissa was
competing with her 3 littermate sisters...
Molly, Merry and Marysia!

How exciting! Melissa wins a 3 point Major and the Best of Winners
placement at the Grand Rapids,Michigan Kennel Club Show on
May 24, 2008! Judge Pluis Davern liked the fact that Melissa has a terrific topline that she holds as she moves! We knew how wonderful Melissa was, but it's great to hear it from the judge!
Thanks Judge Davern!

At the Kankakee, Illinois dogshow on Nov. 29, 2008 Judge Lester Mapes rewarded Melissa with a nice win including 2 points as Winners Bitch, Best of Opposite Sex and Best of Winners!
He made us work for the win... but Melissa performed like a pro and impressed Judge Mapes with her overall type and movement.
We are so proud of Melissa!

Judge Lenora M. Riddle chose Melissa as her Winner's Bitch,Best of Winners
for a 3 point Major at the Valparaiso, Indiana dogshow on June 18, 2009!
Judge Riddle liked the fact that Melissa and I worked as a team.
A very nice compliment to us both!

Melissa had a wonderful day at Kankakee, Illinois November 29, 2009. Under Judge Dana Cline, she was awarded Winner's Bitch, Best of Winners and Best of Opposite Sex! Melissa really shows like a pro now and enjoys herself in the ring. She only needs singles to finish her AKC Conformation title and is getting there one show at a time!

The greatest highlight of Conformation Dog Showing for VWK came on a sunny Fall Saturday...October 9, 2010 at the Stone City KC show held in Morris, Illinois. Our beautiful Melissa became the first
GROUP WINNER in VWK's show history!
After winning her class, then taking Winners Bitch,
the Best of Winners and the Best of Variety awards...
Melissa went into the Hound Group competition.
Up against finished Champions in Afghans,Beagles,Elkhounds,
Ridgebacks,Borzois,Bloodhounds,Basset Hounds,Whippets...
A total of 16 in all....two of them Grand Champions,...most of them four to five times her size...Melissa's wonderful movement and classic good looks impressed the Group Judge, Dr. Edna K. Martin...who
was a Dachshund breeder herself for many years!
Mel came away with a wonderful Group 3 placement,and the biggest win that we may ever experience at Von Wolff Kennels!
Many AKC Champion Dachshunds NEVER place in Hound Group judging during their entire show careers! Our Melissa HAS!
I've always known that Melissa is special....this confirms it for sure.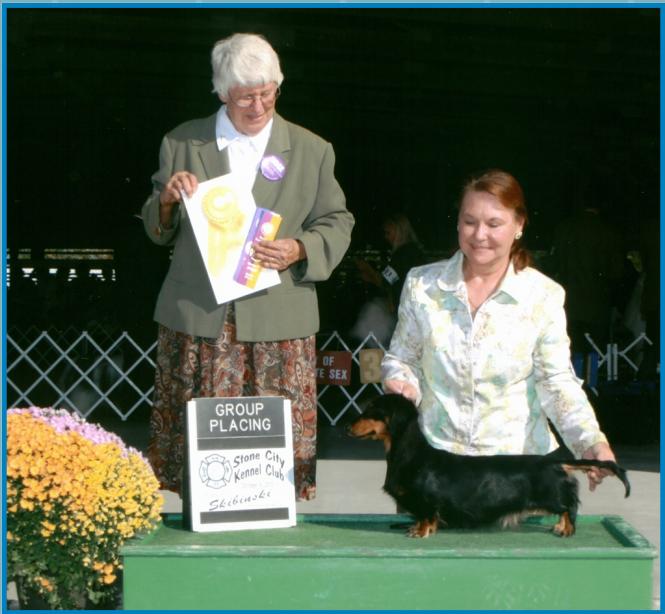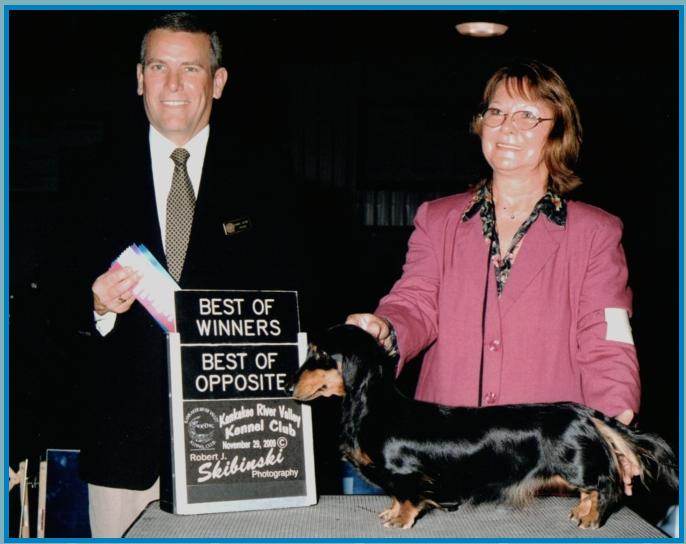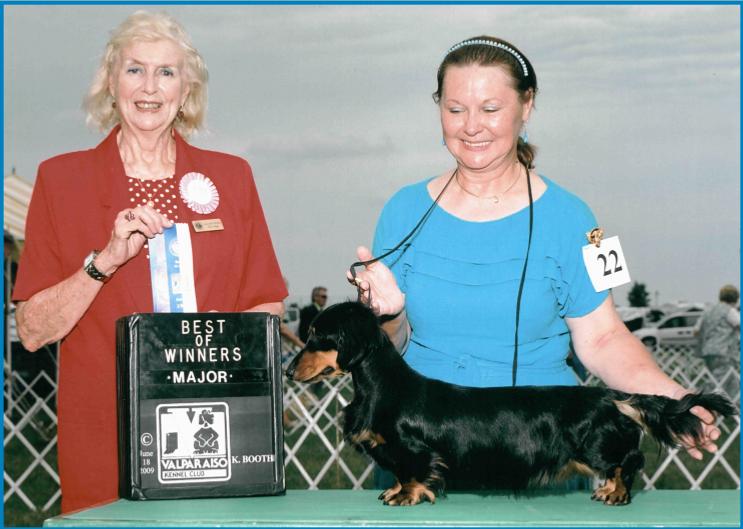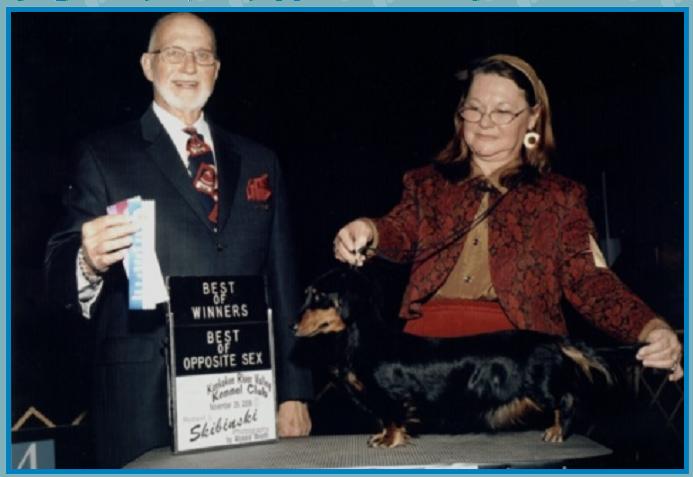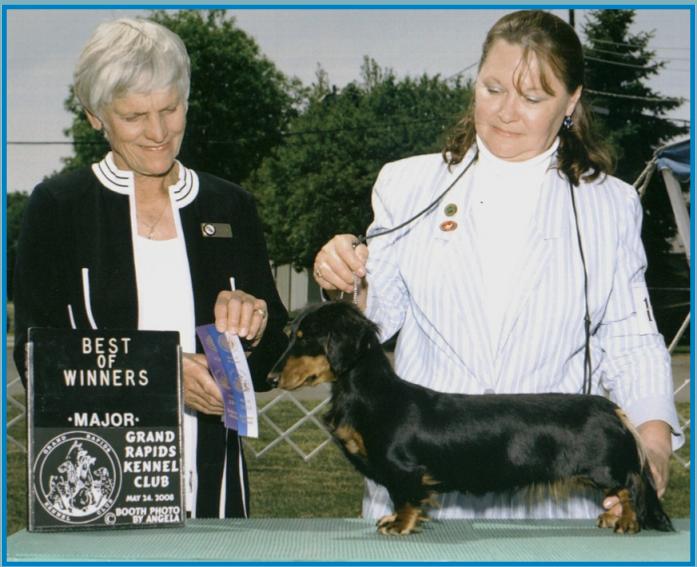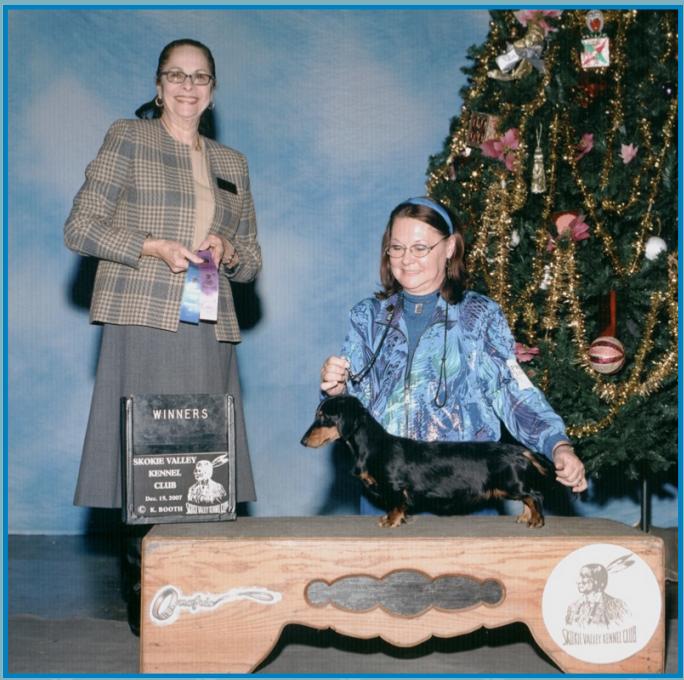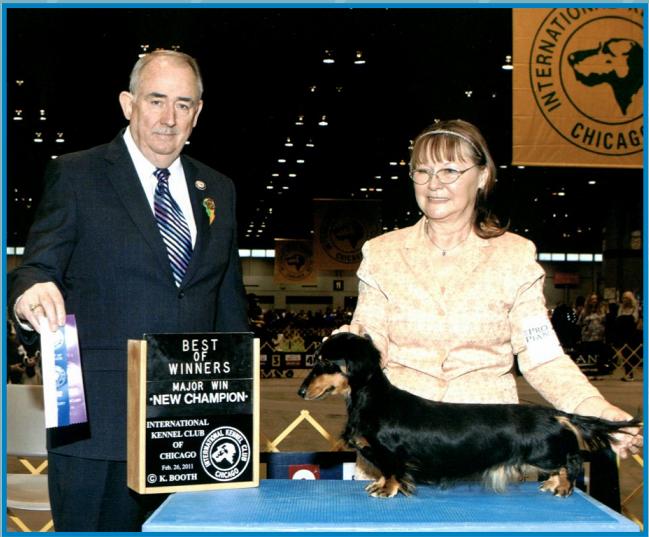 Under Judge Mr. Joe C. Walton, at the International Kennel Club Dogshow
February 26, 2011...Melissa became an AKC Conformation Champion by
winning with a 5 point major! She finished with 3 major wins and a Group 3
placement....a VERY good show career in the classes! What a girl she is!
Now, on to Grand Champion!