Our Diego Eggo Eggo, shows he can take the wins...as he is awarded Smooth Winners Dog on both Saturday, April 16, 2011 and Sunday, April 17,2011! Thanks to Judge Dr.Robert Indeglia and Judge Dana Cline for acknowledging Diego's fine qualities!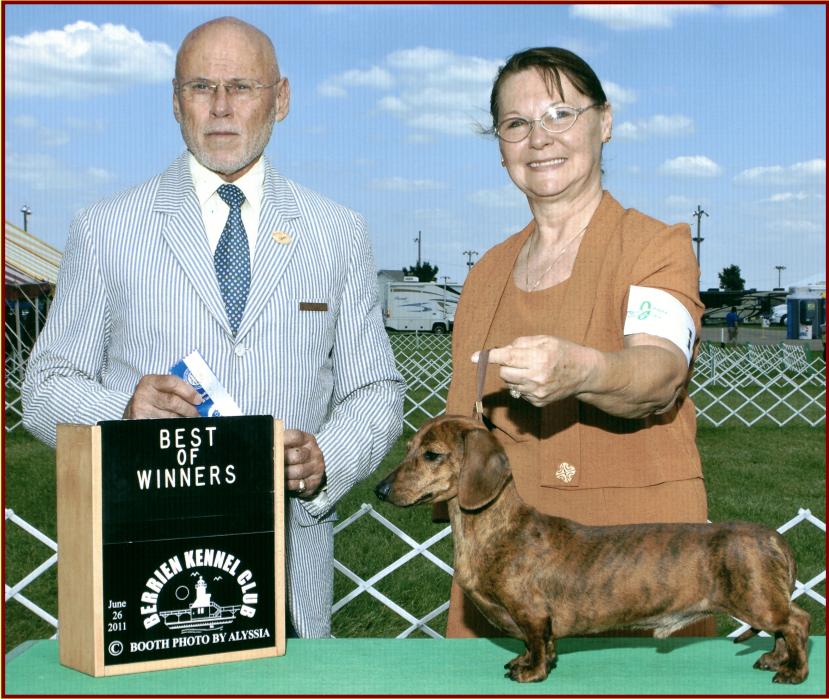 On Sunday June 26, 2011...Judge Edd Bivin presided over judging for Smooth Dachshunds. He awarded Diego the Class Win,Winners Dog, then Best of Winners! Judge Bivin remarked more than once about Diego's "beautiful" markings and structure!
Then, at the Kalamazoo KC dogshow in Marshall,Michigan on August 5, 2011,
Judge Bivin again awarded Diego...for another 2 point win!
Yes, Diego is maturing into a fine adult Smooth Red Brindle dachshund!
With 8 points to his credit, he is now ready to compete for the major wins!
GO Diego GO!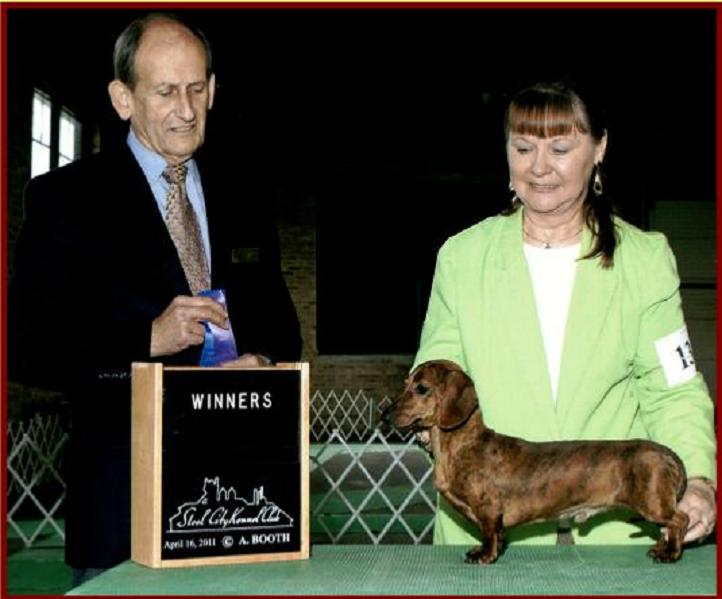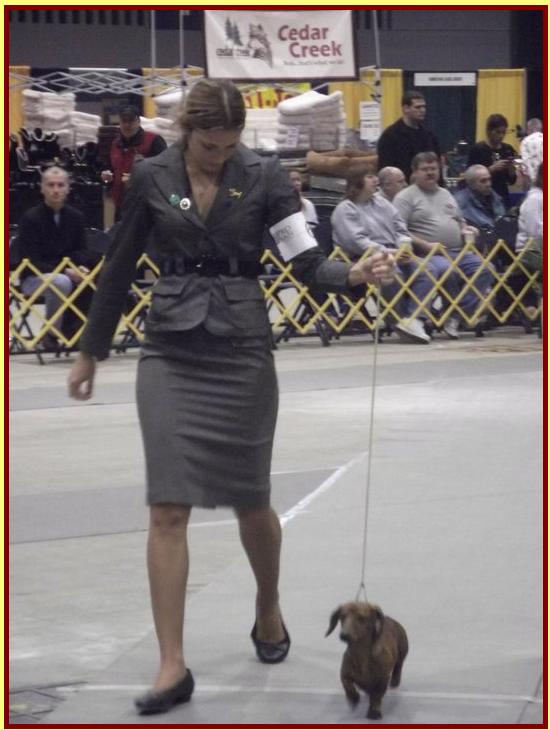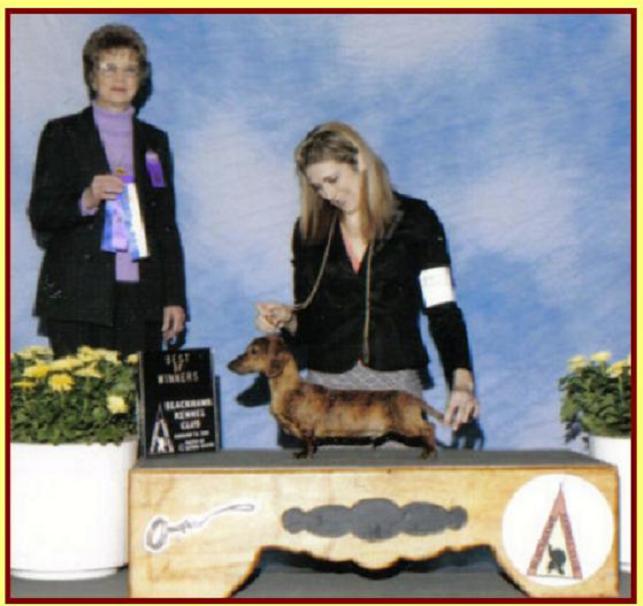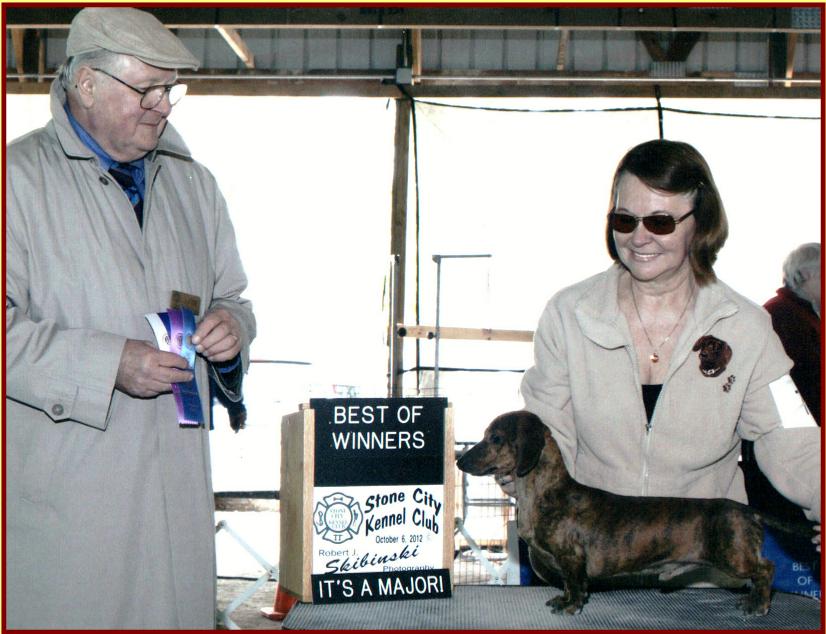 Diego picked up another single point on Jan 28, 2012 at Grayslake, Illinois under Judge Kent H. Delaney. That put Diego at 9 points...but we couldn't
seem to find those elusive majors!
Then, on Saturday, October 6, 2012....Judge Professor Douglas C. Taylor
picked him for Winner's Dog/Best Of Winners,and a 3 point cross-over major!
Now,our Diego only needs one 3 point major to finish his AKC Championship!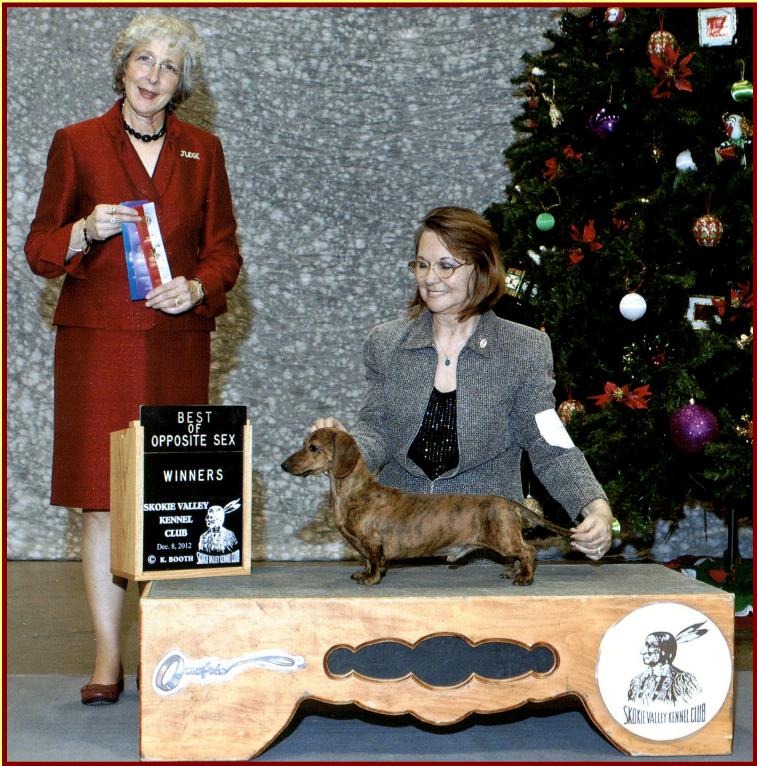 On Sat Feb 8, 2013 under Judge Keke Kahn at the Hoosier Kennel Club Dogshow in Indianapolis, Indiana our "Diego", Magnolia's CK Go Diego Go, MSB was awarded Winners Dog and Best of Winners for a 3 point crossover major that completed his AKC Conformation Championship! Diego is the first Smooth Champion at VWK and has 4 offspring entering the showring this Spring!